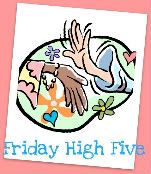 I thought I would try out High Five Friday, from another blog I follow.
Five burning questions:
5) Why do people pull the tabs off their soda cans just to through them on the ground?
4) Why can you find pennies on the ground but never dimes, nickles, quarters, 50 dollar bill?
3) How many times have I driven by that intersection in the last year and just noticed the guardrail?
2) How is it possible on the Canadian side of the Niagara Falls not even have a cigarette but or soda can tab on the street or sidewalks...not ONE?
1) How is it possible for the salad dressing bottles to propagate inside my refrigerator. We only eat two flavors of dressings but I now have eight bottles squeezing out my OJ and milk cartons?